Or, How to make the right amount of pie dough regardless of your pie pan size.
If you've ever wound up with a bowl full of extra pie dough cut off the edge or had to roll your pie dough really thin to get it to fill the entire pan, this article is for you.
Pie dough recipes don't always tell you exactly how much pie dough to make for your pie. I just looked at one recipe that makes about 492 grams of pie dough, it says it will work as a double crust for either an 8 inch or a 9 inch pie.
Logically, that doesn't make much sense, The top of a 9 inch pie pan is over 25% larger by area than an 8 inch pie pan. So, you could wind up with pie dough that's a little too thick or a little too thin, or a lot of left over pie dough. (There will be more on the 'right' pie dough thickness later on.)
P. J. Hamel at King Arthur Flour wrote a blog post (see https://www.kingarthurflour.com/blog/2014/09/14/an-ah-ha-moment) touching on this subject in 2014, dealing with the ratio of the amount of dough for the bottom crust and the top crust. Her recommendation was to use 2/3 of the dough by weight for the bottom crust.
This article expands upon her idea, refining the math a little and providing a chart so you can determine how much pie dough to make for any size pie pan from 3 inches to 15 inches in diameter. (You may need to use baker's math to adjust the recipe, but that's a subject for another article.) It also covers what to do for deep dish pie pans and different types of upper pie crusts (lattice or high-domed.)
Pie pans come in all sorts of sizes, different diameters, different depths, and different slopes for the angled edge of the pie. If you have pie pans from two different makers or bought in different years, they may not be identical in size.
Here's a fairly typical pie pan.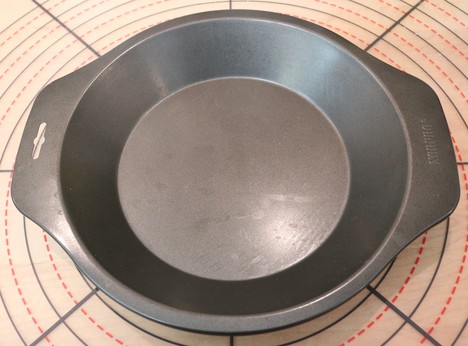 This is a 9 inch pie pan, meaning the inside diameter at the top of the pan is 9 inches. The diameter of the inside bottom of this pan is about 6.6 inches. The pan is about 1.4 inches deep and the angled side is about 1.9 inches.
For a bottom crust, you have to go down the side, across the bottom and back up the other side. If you add the diameter of the bottom of the pan to the length of the two sides, you get 6.6 + 1.9 + 1.9 inches, or 10.4 inches. That's how big a circle you'd get if you smashed the pie pan flat. I like to have 1/4 inch of pie dough around the edge of the pan to make a nice looking border for the pie crust (adding it in twice, of course), so now we're up to 10.9 inches, or nearly 11 inches.
So as a general rule, add 2 inches to the diameter of your pie pan to get the minimum amount of dough you need for a bottom crust, including dough for the edge.
Now, maybe you're one of those people who can roll a perfect circle of pie dough with uniform thickness. I'm not. My pie dough 'circles' used to look like something Picasso or Dali would have discarded, though I've gotten a little better at it over the years. So I often add in another 1/2 inch (1/4 times 2) to give me a margin of error that I'll trim off. (And if you like big thick pie crust edges, you might add in another 1/4 inch on both sides, for another 1/2 inch. I find that a lot of that edge crust winds up left on the plate, so I've been cutting back on both the amount and complexity of edges I do.)
So to recap, your 9 inch pie pan needs anywhere from an 11 inch (no margin of error or extra dough for the edge) to a 12 inch (a margin of error and lots of extra dough for the edge) circle of pie dough for the bottom crust. Following the same rules for margin of error and dough for the edge, the top crust should be 9 1/2 to 10 1/2 inches in diameter. Why so much less? Because you don't have to go down and back up the sides of the pan.
For the remainder of this article, we will add 2 1/2 inches to the diameter of the pie pan for the bottom crust, and 1/2 inch for the top crust, before dealing with the exceptions.
To recap, for an 8 inch pie, you should make enough dough for a 10 1/2 inch circle for the bottom crust, and an 8 1/2 inch circle for the top crust. For a 9 inch pie, it would be 11 1/2 and 9 1/2. Quick quiz: What would it be for a 7 inch pie pan? (Answer: 9 1/2 and 7 1/2.)
Before we can discuss how much pie dough you need to make, we need to discuss pie dough thickness. There's no best answer to the question of how thick your pie dough should be after you roll it out, but a number of authors recommend 1/8 of an inch. (Pre-rolled pie doughs from the refrigerator case at the grocery store are somewhat thinner than that.)
Let's assume that the amount of dough needed for a 9 inch bottom crust (a circle 11 1/2 inches in diameter) is 9 ounces. In tests with a butter-based pie crust rolled out to about 1/8 inch thick, that weight seems to be pretty close.
You might like your pie dough thicker, or thinner, and some types of pie dough are heavier than others, but those are easy to compensate for.
In a previous blog article, https://mynebraskakitchen.com/wordpress/measuring-pie-dough-thickness/, I tested some pie dough rolling strips that are 1/8 thick. They're made from a flexible silicone material, and if you press fairly hard on them with a rolling pin, the pie dough actually comes out closer to 3/32″ thick, so I've included both 1/8″ and 3/32″ columns, though the examples below all assume your pie dough is 1/8″ thick.
Now we can build the pie dough chart telling us how much pie dough to make for either a bottom or top crust at two different thicknesses.
Diameter
(inches)
Area
1/8″ thick
Ounces
1/8″ thick
Grams
3/32″ thick
Ounces
3/32″ thick
Grams
3.0
7.1
0.6
17
0.5
13
3.5
9.6
0.8
24
0.6
18
4.0
12.6
1.1
31
0.8
23
4.5
15.9
1.4
39
1.0
29
5.0
19.6
1.7
48
1.3
36
5.5
23.8
2.1
58
1.5
44
6.0
28.3
2.4
69
1.8
52
6.5
33.2
2.9
82
2.2
61
7.0
38.5
3.3
95
2.5
71
7.5
44.2
3.8
109
2.9
81
8.0
50.3
4.4
123
3.3
93
8.5
56.7
4.9
139
3.7
105
9.0
63.6
5.5
156
4.1
117
9.5
70.9
6.1
174
4.6
131
10.0
78.5
6.8
193
5.1
145
10.5
86.6
7.5
213
5.6
160
11.0
95.0
8.2
233
6.2
175
11.5
103.9
9.0
255
6.8
191
12.0
113.1
9.8
278
7.3
208
12.5
122.7
10.6
301
8.0
226
13.0
132.7
11.5
326
8.6
245
13.5
143.1
12.4
352
9.3
264
14.0
153.9
13.3
378
10.0
284
14.5
165.1
14.3
406
10.7
304
15.0
176.7
15.3
434
11.5
326
15.5
188.7
16.3
464
12.3
348
16.0
201.1
17.4
494
13.1
370
16.5
213.8
18.5
525
13.9
394
17.0
227.0
19.7
558
14.8
418
17.5
240.5
20.8
591
15.6
443
18.0
254.5
22
625
16.5
469
As you can see, an 11 1/2 inch diameter circle has an area of 103.9 square inches and is our standard weight for pie dough that is 1/8″ thick–9.0 ounces or 255 grams.
A standard 1/8″ thick top crust for a 9 inch pie pan would be a 9 1/2 inch circle, which has a weight of 6.1 ounces or 174 grams.
So the total amount of pie dough you need for a 9 inch pie shell bottom and top crust is 15.1 ounces or 429 grams. (And that means the bottom crust uses 59.4% of the total weight, not 2/3, but it was still a major improvement over a 50-50 split.)
While writing this article, I discovered that one of my favorite glass pie pans is actually a 9 1/2 inch pie pan, not the 9 inch pan I had assumed. That explains why it always seemed like I ran out of pie dough before I got it fully rolled out, since from the pie dough chart we can see that I need 9.8 ounces (278 grams) for the bottom crust rather than 9.0 (255 grams) and 6.8 ounces (193 grams) for the top crust, or a total of 16.6 ounces or 471 grams. So I've been making pies with nearly 10% less pie dough than I should have been making.
The pie dough chart is in half-inch increments, but what do you do with a pie pan size that's not listed? If it is a quarter inch off, add half the difference between the two nearest entries. (The mathematical term for this is interpolation.)
For example, I have some disposable aluminum pie pans that are 8 3/4 inches in diameter and not quite as deep as the 9 inch pan pictured above, either, though I consider the latter negligible. The difference between a 11 inch circle and an 11 1/2 inch circle is 0.8 ounces or 22 grams, so add half of that to the 11 inch number to get 8.6 ounces or 244 grams. (That's within a gram of what the entry for 11.25 inches would be.)
The chart can be used in reverse, too. Recently I made a cherry pie and had about 130 grams of pie dough left over after trimming the edges. Not enough for another 9″ pie, but I have some 4″ tart pans that take about 60 grams of dough each (6″ on the chart, since they're about an inch deep, and using the 3/32″ column.) So I made two small tarts, blind baked them, and used them for two small pecan pies.
The Exceptions
There are some types of pies that are exceptions to the recommendations:
For a deep dish pie, measure the depth of the pan and compare that with the depth of a typical pie pan (usually around 1.5 inches) Double the difference, so for a 2.5 inch deep pan you would add another 2 inches to the size of the bottom crust. (That's probably slightly more than what you need but close enough.)
For a rounded top pie, add either 1/2 inch or 1 inch to the size of the upper crust, depending on just how much you heap up the filling.
Lattice-top pies present a unique challenge. There are areas on a lattice-top pie crust that have two layers of dough and areas that have no dough. An adjustment depends on how open your lattice is. A lattice with a lot of open space should use the same amount of dough as a standard top crust, as the amount of overlap and the open space more or less cancel each other out; for a tighter lattice-top, one with less open space, you should add 1/2 inch.
Incidentally, the pie dough chart will work for making different sized pizzas as well, just use it to determine the difference in size and multiply that by your usual dough weight. For example, if you normally use 12 ounces of dough for a 12 inch pizza, you would use 21.3 ounces of dough for a 16 inch pizza. (17.4 / 9.8 * 12)