It's day 4, the last day of Choco­late Boot Camp. (Most Choco­late Acad­e­my cours­es are three days long, but this is a four-day course, because there's so much mate­r­i­al to cov­er. Click here to read the report on Day 1 and Days 2 and 3.)
Today we need to fin­ish every­thing, and there's a lot to finish!
But first we have to make the choco­late marshmallow.
Marsh­mal­low is made from sug­ar syrup, egg whites and gelatin, and it has a lot in com­mon with meringue. The egg whites need to be at room tem­per­a­ture (or per­haps slight­ly above) to devel­op full vol­ume, and any fat will keep the egg whites from whip­ping properly.
Alert read­ers should be say­ing, "Hey, wait a minute! Isn't there fat in choco­late?" Yes, there is, and when we get around to adding the choco­late it is going to deflate the marsh­mal­low some­what. (I think the East­er can­dy mak­ers get around that by adding air as they fill their choco­lates with marsh­mal­low, but as with many foods, what hap­pens in a small batch oper­a­tion, like your friend­ly neigh­bor­hood choco­lati­er or home kitchen, and what hap­pens in mass pro­duc­tion facil­i­ties often have lit­tle in common.)
When I have made marsh­mal­low, I gen­er­al­ly used the recipe in the Pope New Can­dy Cook­book. (Long out of print, but con­sid­ered a clas­sic, I've seen copies sell­ing for sev­er­al hun­dred dol­lars, but you can often find it for a lot less online! The Fran­cois and Antoinette Pope cook­ing school was in Chica­go from 1930 until it closed in 1971. See Chica­go Tri­bune sto­ry.)
The Pope recipe has you add the hot sug­ar syrup slow­ly to the egg whites, then add the bloomed gelatin.
That's not how Chef Russ does it, though. (Does that seem like a recur­ring theme in this series?) He adds the bloomed gelatin to the hot sug­ar syrup, then pours that over the par­tial­ly whipped egg whites. After the marsh­mal­low is blend­ed, the choco­late is warmed and stirred into the marsh­mal­low, which, as expect­ed, most­ly deflates the whipped egg whites.
As he's scrap­ing the bowl with some ingre­di­ent in it, Chef says that one of the chefs he worked for called this 'Cadil­lac­ing' the bowl. He says, "If you do this for your entire cook­ing career, you'll have saved enough to buy a Cadillac."
The choco­late marsh­mal­low is piped into larg­er hemi­spher­i­cal shells that were made earlier.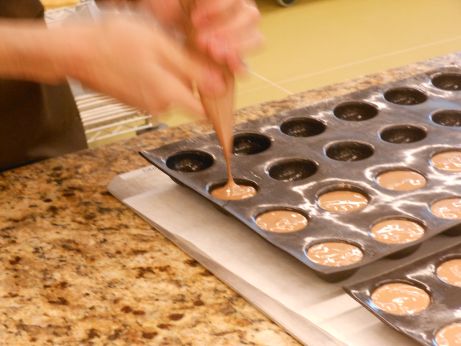 We're going to cov­er these with a chablon, a thin lay­er of choco­late cut with a round cut­ter to fit in the shell. This will make them eas­i­er to deal with when we dip them.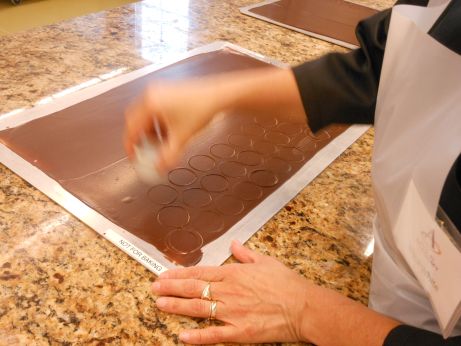 There are a num­ber of can­dies we made that I'm not going to dis­cuss, but I do want to talk about the almond rocher. Caramelized almond sliv­ers are mixed with milk choco­late, shaped, driz­zled with a lit­tle dark choco­late, and light­ly dust­ed with a non-melt­ing sug­ar. This is prob­a­bly the first of the can­dies we made in class that I'm going to make at home, they were incred­i­ble. I've made almond tof­fee can­dies (sim­i­lar to Almond Roca), this is com­plete­ly different.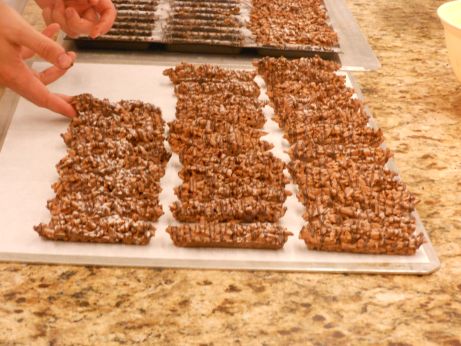 This is also a good time to talk about one of the more counter-intu­tive things about work­ing with choco­late. The more fat (cocoa but­ter) you have in choco­late, the eas­i­er it will be to work with while warm, because warm fat is very flu­id. But remem­ber that cocoa but­ter is a sol­id at room tem­per­a­ture, so when the choco­late cools, the more cocoa but­ter in it, the hard­er the fin­ished choco­late will be. So the choco­late you choose to use can make a big dif­fer­ence in the prod­ucts you make.
This may explain a lot of the mixed results I've had mak­ing can­dies with choco­late in them over the years. I know I'll be a lot more care­ful in choos­ing what kind of choco­late I buy from now on.
When you buy a (dark) choco­late bar at the store, it will often proud­ly say how much cacao con­tent it has. What it gen­er­al­ly won't say is how much of that cacao con­tent is cocoa solids and how much of it is cocoa but­ter. That's a major dif­fer­ence between buy­ing retail choco­late and buy­ing choco­late intend­ed for con­fec­tionery use, the bet­ter man­u­fac­tur­ers (includ­ing, ahem, Calle­baut and Cacao Bar­ry) will clear­ly label their prod­ucts to show how much cocoa but­ter and how much cocoa solids they con­tain. Bar­ry Calle­baut prod­ucts also use a one-to-five drop scale to indi­cate how sol­id the choco­late will be, which is eas­i­er than doing the math.
One of the can­dies we made was a lemon ganache in yel­low eggs with white speck­les on them. When we sam­pled the left-over ganache, we fin­ished this one, it reminds me of a lemon curd.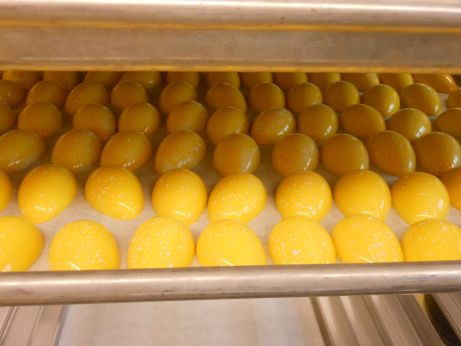 Chef Russ and his intern/assistant, Ter­ri, work togeth­er to put the wings on the bats before they are spray painted.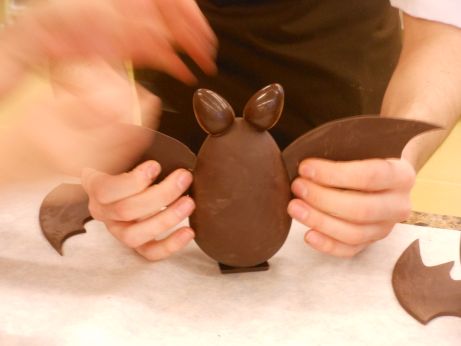 Chef says that if he was try­ing to make these by him­self, he'd either change the design to make them eas­i­er to assem­ble or he'd have them lay­ing on the table for attach­ing the wings. I'm going to try a vari­ant on that to see if I can repair the one I brought home that broke.
Here are the assem­bled and paint­ed bats: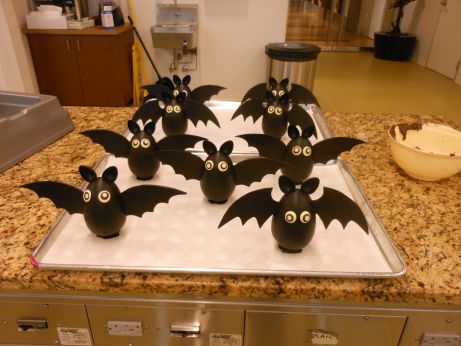 These are sim­ple dis­play pieces, but there are sev­er­al exam­ples of more com­pli­cat­ed pieces from a recent course on mak­ing show­pieces on dis­play in the Choco­late Acad­e­my din­ing area: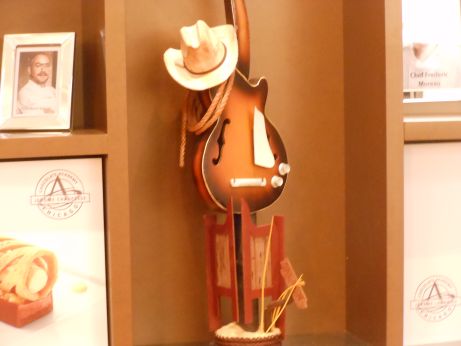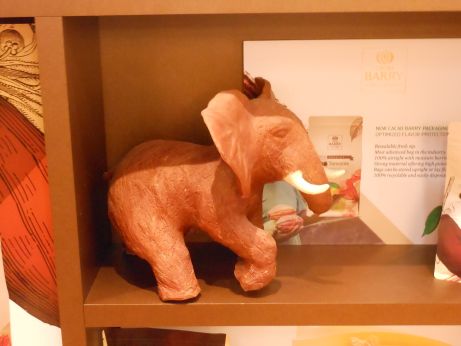 Lunch at the Choco­late Acad­e­my was pret­ty good every day. The meals were catered in, but I think the desserts were made by the pas­try chefs on staff. Here's a shot of the desserts we had today: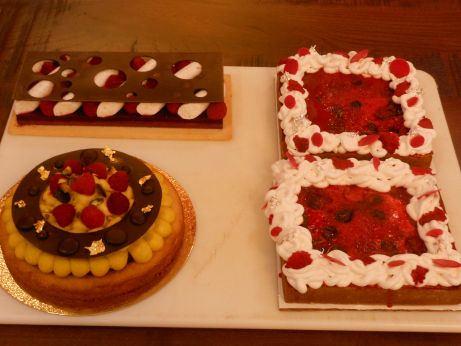 Some days the desserts were so pret­ty it was a shame to have to cut them.
With lunch over, we're into the final push to assem­ble every­thing. All the choco­lates that we have piped have to be closed. Most are fin­ished by pip­ing a lay­er of choco­late on them, that will become the bot­tom. Some of them get cov­ered with a thin acetate sheet to make for a smooth fin­ish, oth­ers get a trans­fer sheet put on them. These are dis­played with the smooth or print­ed side up. The trans­fer sheets have cocoa but­ter with designs or mes­sages on them, some have the Calle­baut logo on them, for example.
The marsh­mal­lows are dipped, and we all get a tray of cut ganache pieces to dip. My skill on this has­n't improved since Mon­day, lots of them still fall off. In an hour, I'm able to make 29 of them, prob­a­bly half of which fell off the fork, but some of my fel­low stu­dents only made a few more than I did, so I don't feel too bad. But I'm nev­er going to become a choco­lati­er mil­lion­aire at this rate!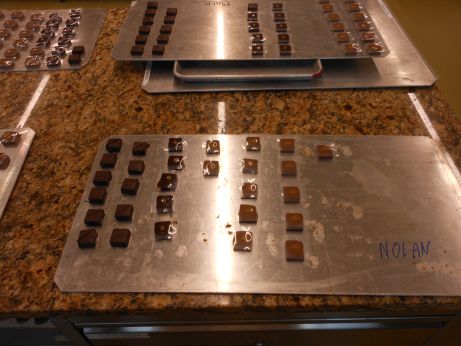 While we're dip­ping choco­lates, Chef Russ and Ter­ri are busy putting togeth­er the buf­fet table, with the mold­ed pieces he's made over then last sev­er­al days plus sam­ples of all our wares, includ­ing a few of my admit­ted­ly poor­ly-dipped chocolates.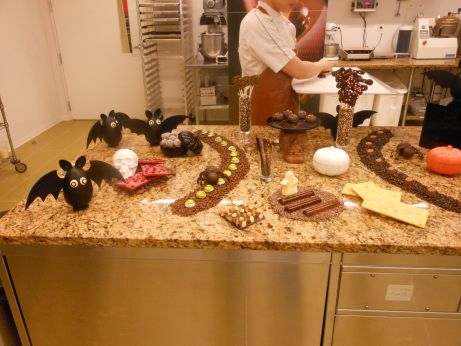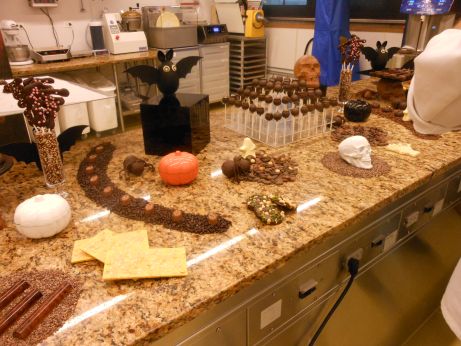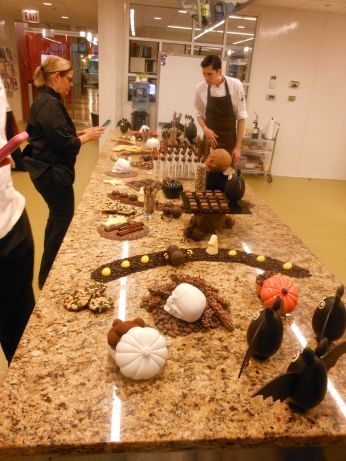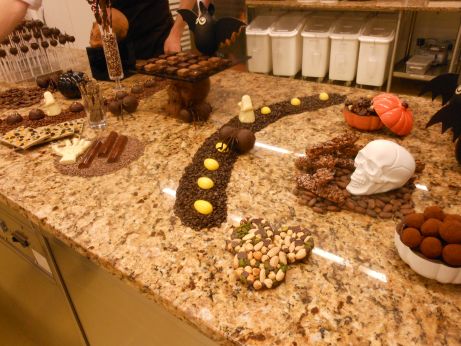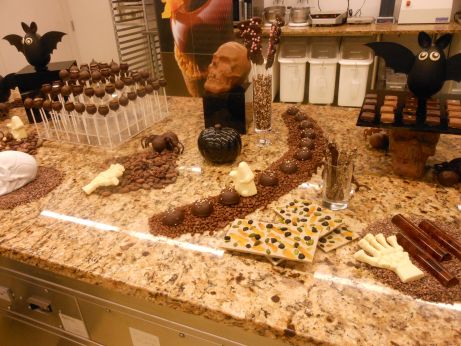 You can't see it very well, but I think that's my spi­der hid­ing under the dis­play board in the above pho­to. I made the legs too thin and they would­n't attach right. I brought my spi­der home, but the legs broke off. I may try to make some new legs for it, but I think I can make a more real­is­tic spi­der by vary­ing the tech­nique a bit, that may be some­thing I prac­tice after my choco­late tem­per­ing pot arrives.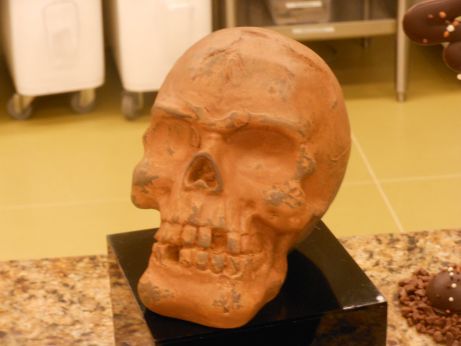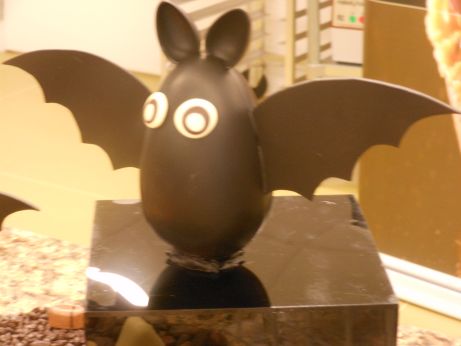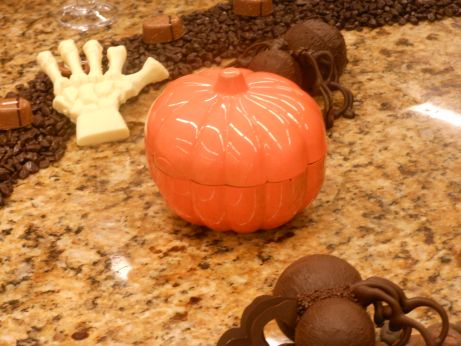 I brought this pump­kin can­dy dish home, and it's on my wife's desk at work now. It's so shiny peo­ple don't think it's com­plete­ly made of chocolate!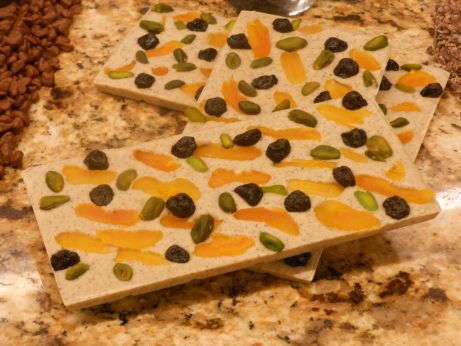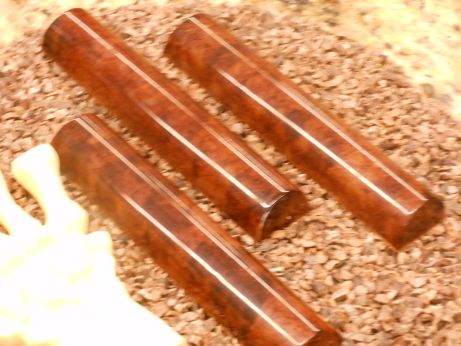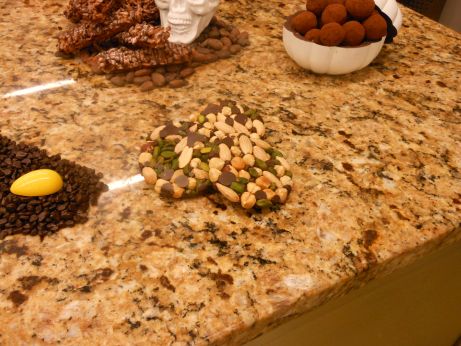 We had a good class, and I enjoyed work­ing with my class­mates and the Choco­late Acad­e­my staff: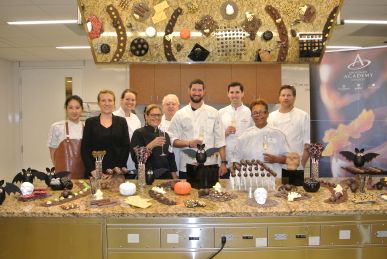 And to fin­ish things off, here's a shot of me get­ting my cer­tifi­cate from Chef Russ Thayer: