Day 2 of Chocolate Boot Camp started out pretty much where day 1 left off, tempering dark chocolate. (Here's Part 1 of this series.) On the table in the morning, using the seed method in the afternoon. I figured out what I did wrong with my seed method batch on Monday, I misread the scale, so I had way too little seed chocolate. This batch was very nicely tempered and earns a positive comment from Chef Russ.
There are 8 students in the course (I'm the one with the least chef training, which doesn't surprise me) and 15 recipes in the text material, so most of us had to scale out 2 recipes Tuesday morning. I did a chocolate mint ganache (which will go in some green shells that we color later in the day, see below) and the ingredients for chocolate marshmallow. It take a long time to pick the stems off of 14 grams of mint leaves. I've made marshmallow a number of times, so I was looking forward to seeing Chef Russ's technique. My table partner scales the ingredients for a vanilla ganache and a single-source Brazilian chocolate ganache. The other tables scale the ingredients for earl grey tea ganache, palet d'or, crispy bar, lemon ganache, coffee ganache, berry bar, tropical bar, coconut truffle, cognac truffle, caramelized almond rocher and passion fruit lollipops. We're going to be making a lot of different chocolate candies!
Chef says that we're done practicing, everything we're doing from this point on is for real. (We've already made a few things that we'll use later on.)
While we're busy tempering chocolate, Chef Russ is busy casting items for the buffet table: skulls, pumpkin shaped candy dishes and a creepy hand, and we're encouraged to watch as we have time. He also shows us how to make chocolate sheets thick enough for cutting out for a display piece, and we helped cut out wings for some bats. He cast the bodies using a large egg mold, with a smaller egg mold for the ears. They'll be spray painted black after they're assembled.
Chef shows us how to pipe and decorate chocolate lollipops: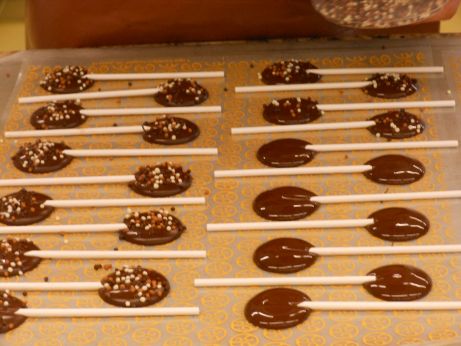 Mine aren't nearly as circular, I decorate mine with freeze-dried strawberries that are coated in colored white chocolate.
We're always learning something. As chocolate cools, the crystallizing chocolate releases heat. (This is called the 'latent heat of crystallization' or 'enthalpy of fusion' in physics class.) This complicates casting large pieces, because as the outside cools and crystallizes, it heats up the interior, possibly to the point where the inner chocolate loses temper because it melts the beta 5 crystals. That's why really thick chocolate pieces may have semi-soft chocolate in the center.
To get around this, the chocolate mold goes in the freezer for a while, to help it cool faster. But not too long, we don't want it to get so cold that it gets damp or sweats when it comes out of the freezer, as water and chocolate do not mix. Chef Russ says, "We don't want to turn it into a can of Coke."
We're making some display pieces too, spiders. We create two spheres (one 50mm and one 40mm in diameter) and join them together to form the body. Then we pipe several sets of legs that we'll attach later. On Wednesday, we take a brush and paint the outside of the spider body with warm chocolate, to make it look hairy. I'm not the only student who drops my spider body on the floor. Fortunately, I made several of them.
Wednesday we start making ganaches. Most ganache recipes have you heat the cream to boiling, but that's not how Chef does it. He heats the cream to about 70 (C), warm enough to melt the chocolate and bring it up to a good working temperature. I lost my table partner today, he had to leave because of a family emergency.
We're making several infused ganaches, one with earl grey tea and one with coffee. We're also making a vanilla ganache, the vanilla beans went in the cream when it was measured out on Tuesday. The Chocolate Academy staff will dry out and grind up the 'used' vanilla bean pods to produce a vanilla powder that shows up in at least one recipe.
Wednesday we're allowed to use either the table method or the seeding method to temper our chocolate, I choose the seeding method because I've already got one chef's jacket with huge chocolate patches on it, and I'm trying to keep my other one as clean as I can. In the morning I do dark chocolate, in the afternoon I get to work with milk chocolate, which is has a slightly lower working temperature.
Some of the ganaches go in a frame for cutting with a wicked looking device called a confectionery guitar. Think cheese slicer, but with around 20 wires in parallel.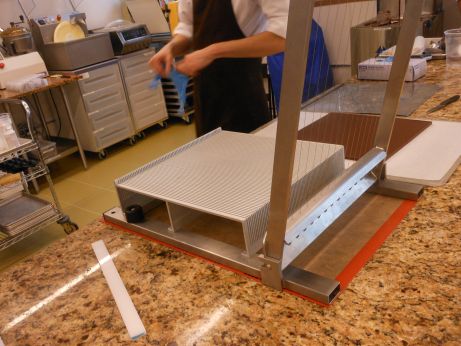 Others go in the piping bag, and we are busy filling chocolate shells with various types of chocolate, including chocolate shells that you can buy pre-made: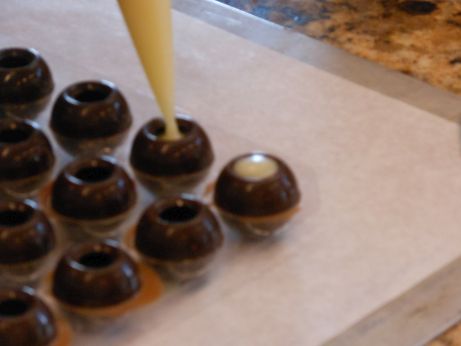 We pipe the ganache for truffles for later shaping into balls: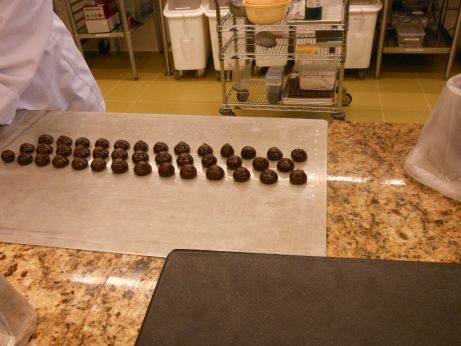 Wednesday afternoon we work with colored cocoa butter, so ahead of lunch they wrap one of the work tables with plastic wrap to keep it clean. Colored cocoa butter is neat stuff, but expensive, 8 ounces is $20. It comes in several dozen colors. You have to temper it just like you do chocolate, but the way we do it is simple, you heat the cocoa butter up to the point where it starts to melt in the bottle (about 35 degrees) then shake it so that the cooler cocoa butter in the center seeds the warmer melted cocoa butter on the outside, producing a tempered cocoa butter. You can temper and re-temper chocolate and cocoa butter many times, so when we're done we just save what we can of the colored cocoa butter and put the rest away.
We use a wire bristle brush dipped in colored cocoa butter to dot several sets of molds with speckles of color. We also use our finger, dipped in green cocoa butter, to produce a swirl on the inside of some hemispherical molds. After that cools, we'll cover the green with white cocoa butter (colored white, 'raw' cocoa butter is more of a cream color.) This produces beautiful chocolates: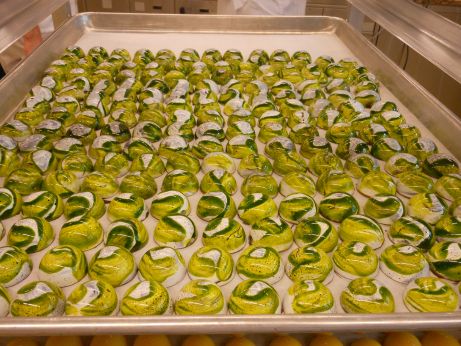 Chef suggest we take an hour as a supper break and then work until 10, fortunately he's kidding. But there's a lot to do on Thursday, and that'll be Part 3 of this series.