Choco­late is some­thing I've dab­bled with over the years, cov­er­ing home made can­dy (espe­cial­ly sponge can­dy) with milk choco­late, for exam­ple, but I real­ly did­n't know any­thing about work­ing with choco­late, much less mak­ing items that would look pro­fes­sion­al­ly made.
Well, to cor­rect that, I recent­ly attend­ed the course called 'Choco­late 1.0 — Dis­cov­er­ing Choco­late' at the Choco­late Acad­e­my in Chica­go. That's the offi­cial name of the course, but the staff calls it Choco­late Boot Camp, and it was an intense four days for me, espe­cial­ly since I'm a desk jock­ey and not used to stand­ing and work­ing in a kitchen 8–9 hours at a time.
This course was a Christ­mas present from my old­er son. (My younger son gave me a sim­i­lar present two years ago, the 'Foun­da­tion of Pas­try Line' course at the San Fran­cis­co Bak­ing Insti­tute, near where he works at YouTube. In fact, it was Chef Michel Suas, founder of SFBI, who sug­gest­ed I take the Choco­late Acad­e­my course rather than the one SFBI offers once a year.) I was orig­i­nal­ly hop­ing to take the course this sum­mer, but that ses­sion filled up before I could get all the details worked out. But the first week of Octo­ber was a good week to be in Chica­go, the Cubs were about to enter the play­offs and the weath­er was decent, except for one day of rain. (It would­n't be Chica­go with­out a lit­tle rain, though.)
The Choco­late Acad­e­my is run by Bar­ry Calle­baut, formed by the merg­er of Calle­baut, a Bel­gian com­pa­ny, and Cacao Bar­ry, a French com­pa­ny, in 1996. They also own a num­ber of small­er choco­late firms, includ­ing Van Leer and Mona Lisa. Bar­ry Calle­baut says that 25% of the choco­late avail­able world­wide includes some of their products.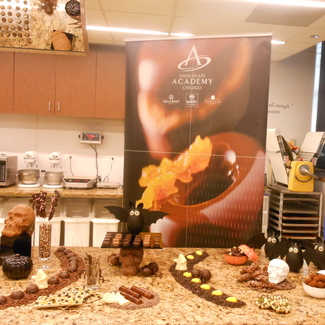 Above is a small selec­tion of the work the stu­dents and staff assem­bled over four days. (As you can prob­a­bly tell, it was a Hal­loween-themed display.)
Day 1:
The first morn­ing was spent in the class­room, learn­ing about how choco­late is made, start­ing with grow­ing and har­vest­ing the cacao pods, and get­ting an intro­duc­tion into the the­o­ry of tem­per­ing choco­late. We also had a choco­late tast­ing, sam­pling every­thing from pure cocoa but­ter and cocoa solids to an assort­ment of white, dark and milk choco­lates. To top things off, the mar­ket­ing teams for Calle­baut, Cacao Bar­ry and Van Leer had pre­sen­ta­tions about their prod­ucts. (The Mona Lisa rep was appar­ent­ly unavailable.)
Why tem­per choco­late? To give it a nice snap, a desir­able mouth feel and a shiny sur­face. Well-tem­pered choco­late is also eas­i­er to work with and is less sus­cep­ti­ble to 'choco­late bloom', a white pow­der or white streaks that show up on the sur­face of some choco­late, espe­cial­ly choco­late that has sat too long or got­ten a lit­tle too warm. And that means it has a longer shelf life, which for any­one mak­ing, and espe­cial­ly sell­ing, choco­lates is very important.
Tem­per­ing choco­late is all about the fat in the cocoa but­ter. The fat can form six dif­fer­ent crys­tal struc­tures, though one of them only devel­ops over many months or under pres­sure. Of the five remain­ing struc­tures, the only one that is sol­id at room tem­per­a­ture is called Beta 5. (Some of the sci­en­tif­ic lit­er­a­ture on choco­late men­tions a sev­enth crys­tal struc­ture for cocoa but­ter fat, but like the sixth form, it may not occur nat­u­ral­ly as choco­late cools.)
So, tem­per­ing is the process by which the cocoa but­ter fat is encour­aged to crys­tal­lize pri­mar­i­ly in the Beta 5 form.
If you let ful­ly melt­ed choco­late cool, all five crys­tal forms will appear. So the trick is to let the choco­late cool a bit, then heat it back up to the point where crys­tal forms 1–4 all melt, leav­ing only a small amount of the Beta 5 crys­tal struc­ture. 1% is the tar­get lev­el, that's high enough that as the choco­late cools down again there's enough Beta 5 crys­tals to encour­age the cool­ing fat to form that struc­ture rather than one of the oth­er four, but not so much that it forms that struc­ture quick­ly, which gives the choco­lati­er time to work with the chocolate.
You can also bypass the cool-then-reheat cycle by intro­duc­ing some tem­pered choco­late or cocoa but­ter (some­times called silk) that is already in the Beta 5 struc­ture into the warm choco­late, thus 'seed­ing' the crys­tal structure.
With the the­o­ret­i­cal stuff over, we got to start work­ing in the lab.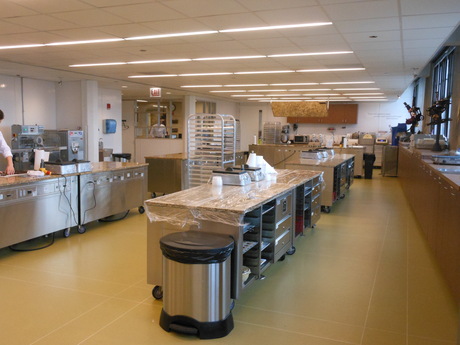 We used both tem­per­ing meth­ods in class, start­ing with the clas­si­cal method of cool­ing the choco­late while work­ing it then reheat­ing it.
Mon­day after­noon was spent prac­tic­ing form­ing well-tem­pered choco­late, first by work­ing the cool­ing choco­late on a mar­ble sur­face, then putting it back in the warmer to melt out the unwant­ed cocoa but­ter in struc­tures 1–4, leav­ing us with a pan full of well-tem­pered choco­late. We did this sev­er­al times.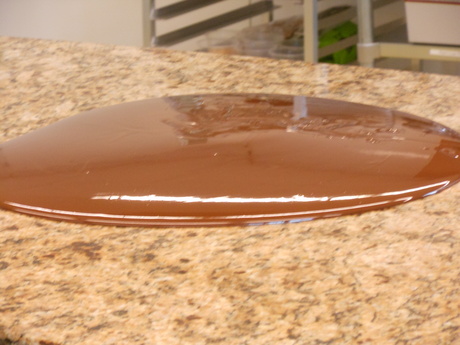 This pic­ture shows about 7 pounds of dark choco­late, cool­ing before being worked and put back into the warmer.
Then we got to try it using the seed method, which is a lot less messy, though some purists think it does­n't make choco­late that is as well-tempered.
We also spent some time learn­ing the right ways to fill choco­late molds, made a few sim­ple mold­ed shells and can­dies and then spent some time dip­ping choco­lates, a skill that our instruc­tor, Chef Russ Thay­er, made look oh so sim­ple, but keep­ing a small square of choco­late or ganache from falling off the dip­ping fork into a big tub of warm choco­late is not easy!
By the time we fin­ished up, a lit­tle after 5PM, I was thor­ough­ly worn out. I actu­al­ly fell asleep dur­ing Mon­day Night Foot­ball, and as a foot­ball fanat­ic, that's tru­ly unusu­al for me!
Part 2 of this report will cov­er Days 2 and 3.