One of the best parts about spend­ing most of a week in Chica­go for Choco­late Boot Camp was that Chica­go has always been a town that I've enjoyed eat­ing in. It's nev­er real­ly been a 'fan­cy restau­rant' town, even though it has two restau­rants that have earned the elu­sive three-star rat­ing from Miche­lin. Chicago's more of a 'good food' town, whether that's piz­za, steak, ribs, eth­nic food or the epony­mous (but not low­ly) Chica­go Hot Dog.
Liv­ing in Lin­coln, Nebras­ka, home of Valenti­no's Piz­za, Chica­go-style piz­za is still my kind of piz­za, deep-dish, stuffed or the old north­side thin crust piz­za (that appears to have large­ly dis­ap­peared from the scene.) When Peter Rein­hart did his world­wide piz­za tour (result­ing in the book Amer­i­can Pie), he admit­ted that it took him a while to 'get' Chica­go piz­za. (And I was­n't entire­ly con­vinced he had, in fact, 'got­ten' it.)
I used to eat a Chica­go-style hot dog or an Ital­ian Beef sand­wich for lunch near­ly every day when I was work­ing in Chica­go. (That prob­a­bly explains my waistline.)
The hotel I was stay­ing at in the Riv­er North dis­trict was about two blocks away from a Por­tillo's Hot Dogs. Por­tillo's, for those who aren't into the Chica­go food scene, is a restau­rant phe­nom­e­non. Start­ing from one tiny hot dog stand in 1963, Dick Por­tillo built a Chica­go food empire. Accord­ing to Crane's Chica­go Busi­ness, the aver­age Por­tillo's loca­tion does well over $6 mil­lion dol­lars a year. (By com­par­i­son, a good McDon­ald's loca­tion does about $2.5 mil­lion in annu­al sales.)
Dick sold the chain a cou­ple of years ago to some east coast investors for near­ly $1 bil­lion. He wise­ly kept all the real estate, though, so he still owns the buildings.
So far, it does­n't appear that the new own­ers have devi­at­ed from the for­mu­la that Dick per­fect­ed. Always busy, but nev­er a huge wait. (Dri­ve-through is anoth­er sto­ry, though, I've seen traf­fic jams caused by peo­ple wait­ing in line to go through a Por­tillo's drive-through.)
Rick Bay­less's cen­ter­piece restau­rant, the Fron­tera Grill, was also only a cou­ple of blocks away, and I was able to check it out one night. For­get get­ting a reser­va­tion, though, but you can usu­al­ly get seat­ed in the bar quick­ly, and we were.
You can't eat at the Fron­tera Grill with­out hav­ing some kind of a mar­gari­ta, and I had the Oax­a­can Gold, with chipo­tle salt on the rim. A spicy way to start a meal.
I had the tor­tilla soup for an appe­tiz­er. It was a lot milder than I expect­ed, and that was a very pleas­ant sur­prise. (Far too often tor­tilla soup is so pep­pery that you can hard­ly taste it, this was not the case.)
I only need­ed one glance at the menu to decide on my entrée, duck with mole sauce. (Had my wife been along on this trip, she would has guessed my entrée choice with just a glance at the menu, too, she knows I'll order duck any time I can.) Rick Bay­less has said that it took him 20 years to per­fect his mole recipe, and it was worth the time invest­ment. And the duck was flawless.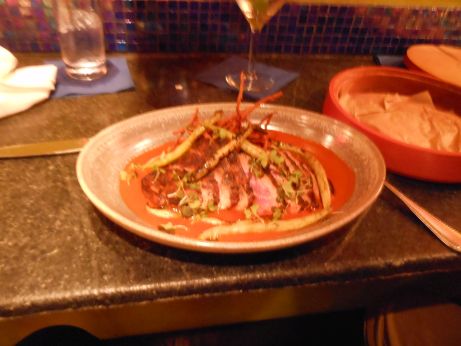 For dessert I had Duo de Flanes, two flans, includ­ing one with prosciutto.
I also got to Lou Mal­nati's. (Take­out, since it was a 45 minute wait for a table and a 50 minute wait for take­out.) The Stuffed Spinach Bread was the big win­ner here, the per­son­al sized deep dish piz­za was good, though I've had (and made) better.
Fri­day, on the way out of town, I head­ed up to my old neigh­bor­hood of Evanston, the view along Lake Shore Dri­ve alone was worth the side trip. The Hoosier Mama Pie Com­pa­ny was my first stop, I was a lit­tle too ear­ly for the lunch menu but a cou­ple of hand pies (mush­room and sausage) were deli­cious. Then I head­ed up to Ben­nison's Bak­ery. Jory Down­er has kept up the tra­di­tion here, and was on the USA's 2005 Coupe du Monde de la Boulan­gerie gold medal team, so he is tru­ly one of the best pas­try chefs in the world, and there's a tro­phy in the Ben­nison's win­dow to give silent tes­ti­mo­ny to it. Sad­ly, though, they've dis­con­tin­ued mak­ing Pecan Loaf, some­thing we used to have every Sun­day and would load up on when we made occa­sion­al trips to Evanston after we moved to Nebras­ka. So, I got a banana loaf (more of a dessert cake than a banana bread), and I bought a dozen mac­arons, and these last­ed me most of a week.
It is always good to get home after being on the road, but I do miss Chica­go food, so this was a nice side-ben­e­fit to my trip.