In a recent thread on My Nebras­ka Kitchen, the issue of how to get seeds to stick to bread came up.
So, today I tried an experiment.
I made a batch of Chica­go-style hot dog buns (the KAF recipe), mak­ing 12 buns. (We like our buns a lit­tle small­er than what the recipe sug­gests.) I divid­ed them into six pairs, and each pair got a dif­fer­ent method for stick­ing pop­py seeds to the bun:
Water
Seeds on the bottom
Oil
Egg White
Milk
Hon­ey (dilut­ed with water)
All six treat­ments were done right after shap­ing and allowed to final proof for about an hour. I left the ones with the seeds on the bot­tom sit that way for about 45 min­utes, then rolled them over so the seeds were on top. Here's how they looked just before going into the oven: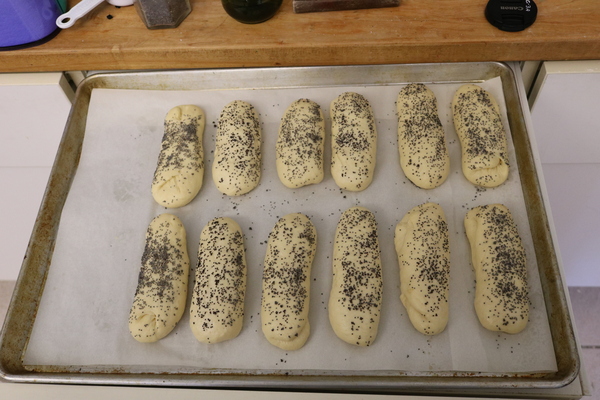 Here's how they looked when they came out of the oven. (The order I list­ed them in above is not the order they are on the pan.):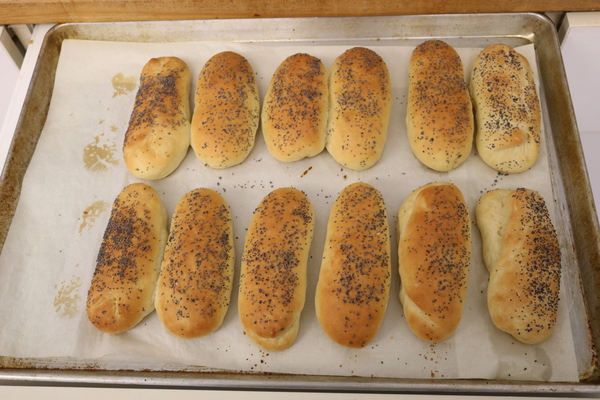 I let them cool for an hour and then tried to see how eas­i­ly the seeds came off each type. So, how well did each method work?
The oil treat­ment fared the worst. I can brush the seeds off fair­ly easily.
The oth­ers all did bet­ter, I'd rank the 'seeds on bot­tom' and 'hon­ey' meth­ods as being the most stuck down, with the oth­er three just slight­ly behind them.
There are a few oth­er meth­ods I might try anoth­er time, but for now I'd rec­om­mend using some hon­ey and water to stick your seeds down.