In a recent thread on My Nebraska Kitchen, the issue of how to get seeds to stick to bread came up.
So, today I tried an experiment.
I made a batch of Chicago-style hot dog buns (the KAF recipe), making 12 buns. (We like our buns a little smaller than what the recipe suggests.) I divided them into six pairs, and each pair got a different method for sticking poppy seeds to the bun:
Water
Seeds on the bottom
Oil
Egg White
Milk
Honey (diluted with water)
All six treatments were done right after shaping and allowed to final proof for about an hour. I left the ones with the seeds on the bottom sit that way for about 45 minutes, then rolled them over so the seeds were on top. Here's how they looked just before going into the oven: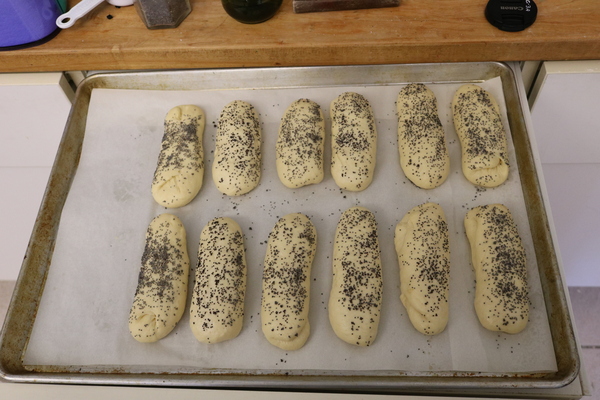 Here's how they looked when they came out of the oven. (The order I listed them in above is not the order they are on the pan.):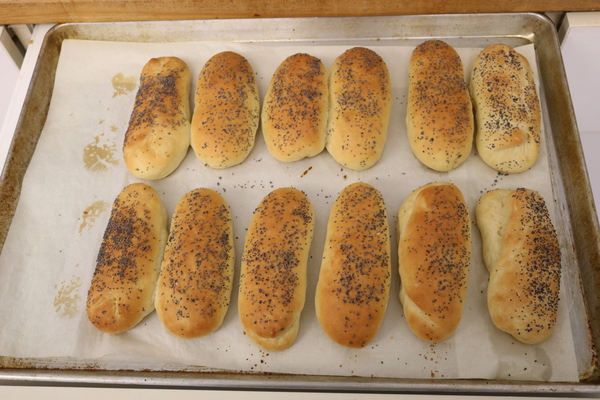 I let them cool for an hour and then tried to see how easily the seeds came off each type. So, how well did each method work?
The oil treatment fared the worst. I can brush the seeds off fairly easily.
The others all did better, I'd rank the 'seeds on bottom' and 'honey' methods as being the most stuck down, with the other three just slightly behind them.
There are a few other methods I might try another time, but for now I'd recommend using some honey and water to stick your seeds down.