Take your best knife out and look at it close­ly. How sharp is it?
Prob­a­bly not as sharp as you think it is.
Here's one of my favorite knives, a 7 1⁄2 inch Chi­nese cleaver: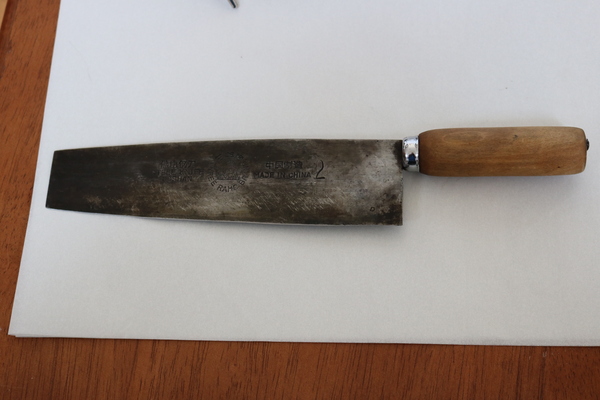 Looks pret­ty sharp, eh?
Let's look at it a bit clos­er, at about 3X power: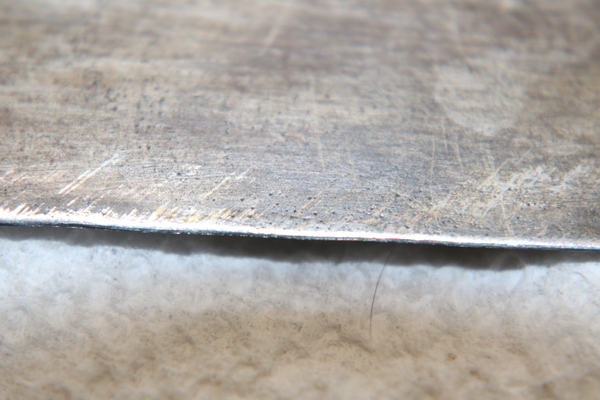 Still look pret­ty sharp? Let's try it at 150X power: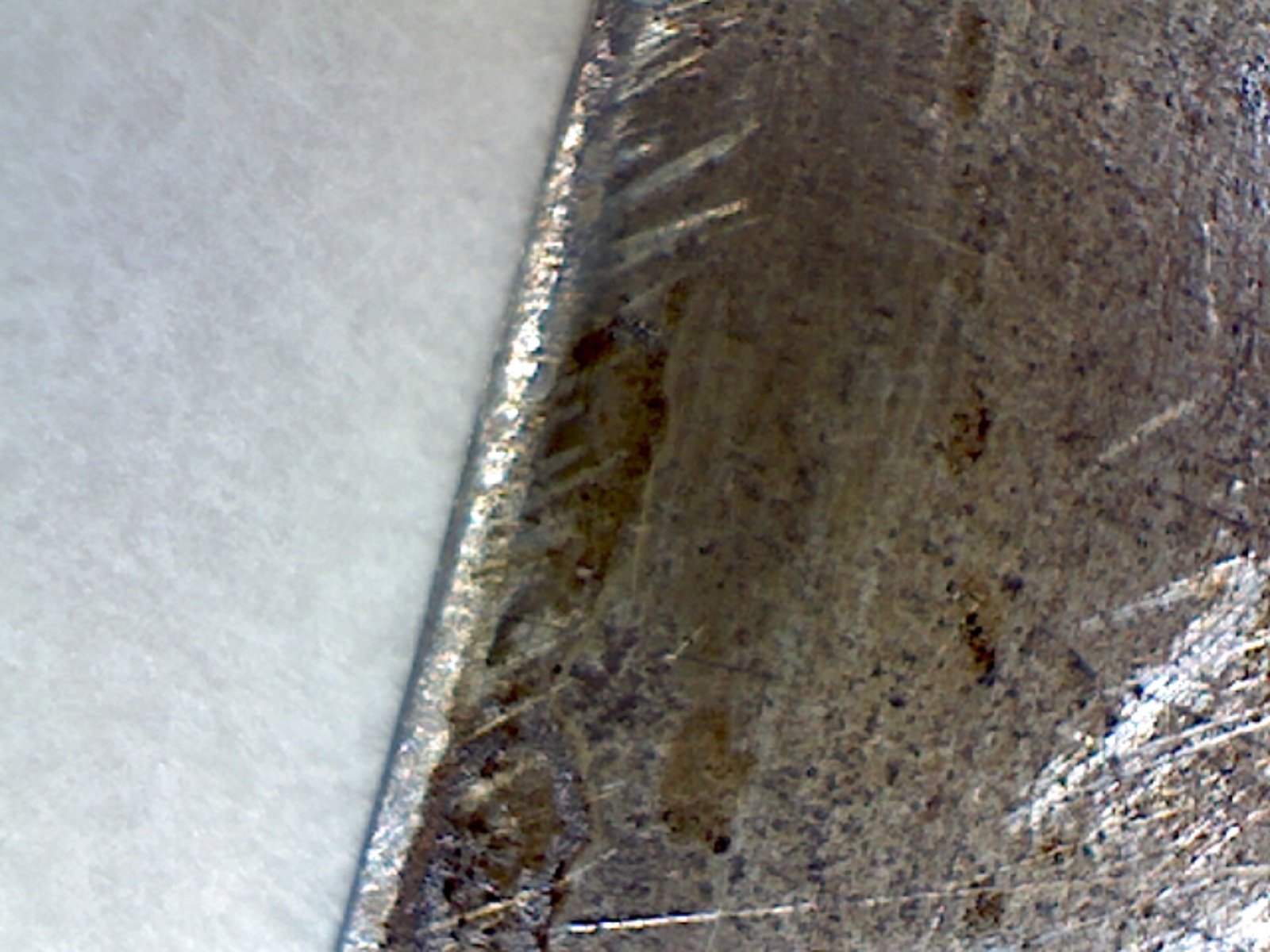 Now you can see lots of bumps and grooves, and the edge is uneven, too. And this knife has been run through an Accusharp V sharp­en­er recently.
But a V sharp­en­er or a sharp­en­ing steel don't put a new edge on a knife, all they do is smooth out some of the rougher parts of the edge you have.
So, it's time to give this knife a good sharpening.
There are sev­er­al dif­fer­ent types and grades of sharp­en­ing stones you can use, but in gen­er­al they all come down to two fac­tors: The grit num­ber and the wet­ting agent.
I'm cur­rent­ly using a Lan­sky knife sharp­en­ing kit that has 5 stones, rang­ing from real­ly coarse (70 grit) to fair­ly fine (1000 grit.) Sharp­en­ing stones go all the way up to 6000 grit.
The wet­ting agent keeps the sur­face of your stone from get­ting clogged up, basi­cal­ly the oil or the water float away the met­al par­ti­cles you grind off the knife as you sharp­en it.
The stones in my Lan­sky kit use oil as the wet­ting agent, I think oil stones are a bit eas­i­er to main­tain. There are also water stones, which gen­er­al­ly need to be soaked in water for a few min­utes and washed off after­wards. There are stones that say they can be used dry, but you'll need to refresh the stone peri­od­i­cal­ly, pos­si­bly even grind it down, or at the very least clean it with a toothbrush.
When using sharp­en­ing stones, you want to start with a coars­er (low­er) grit stone and work up. Because this knife is already fair­ly sharp and does­n't need a whole new edge, I'm going to start with the 'medi­um' stone in my kit, which is a 280 grit stone.
To use a stone, start at the heel of the knife and work towards the point. If you use a man­u­al stone, push the knife across the stone, blade first, while slid­ing the knife side­ways towards the tip. (There are many very good videos of the prop­er sharp­en­ing tech­nique on the Inter­net; the main pur­pose of this post is to show you what your knives prob­a­bly look like and hap­pens when you sharp­en your knives–at a micro­scop­ic level.)
With my Lan­sky kit, the knife remains fixed and the stones moves across the knife, but the process is pret­ty much the same, start­ing at the heel and mov­ing towards the point, and the direc­tion of the grind is always towards the knife, not away from it, because you're try­ing to take met­al off the blade.
Here's what my knife looks like after using the medi­um (280 grit) stone: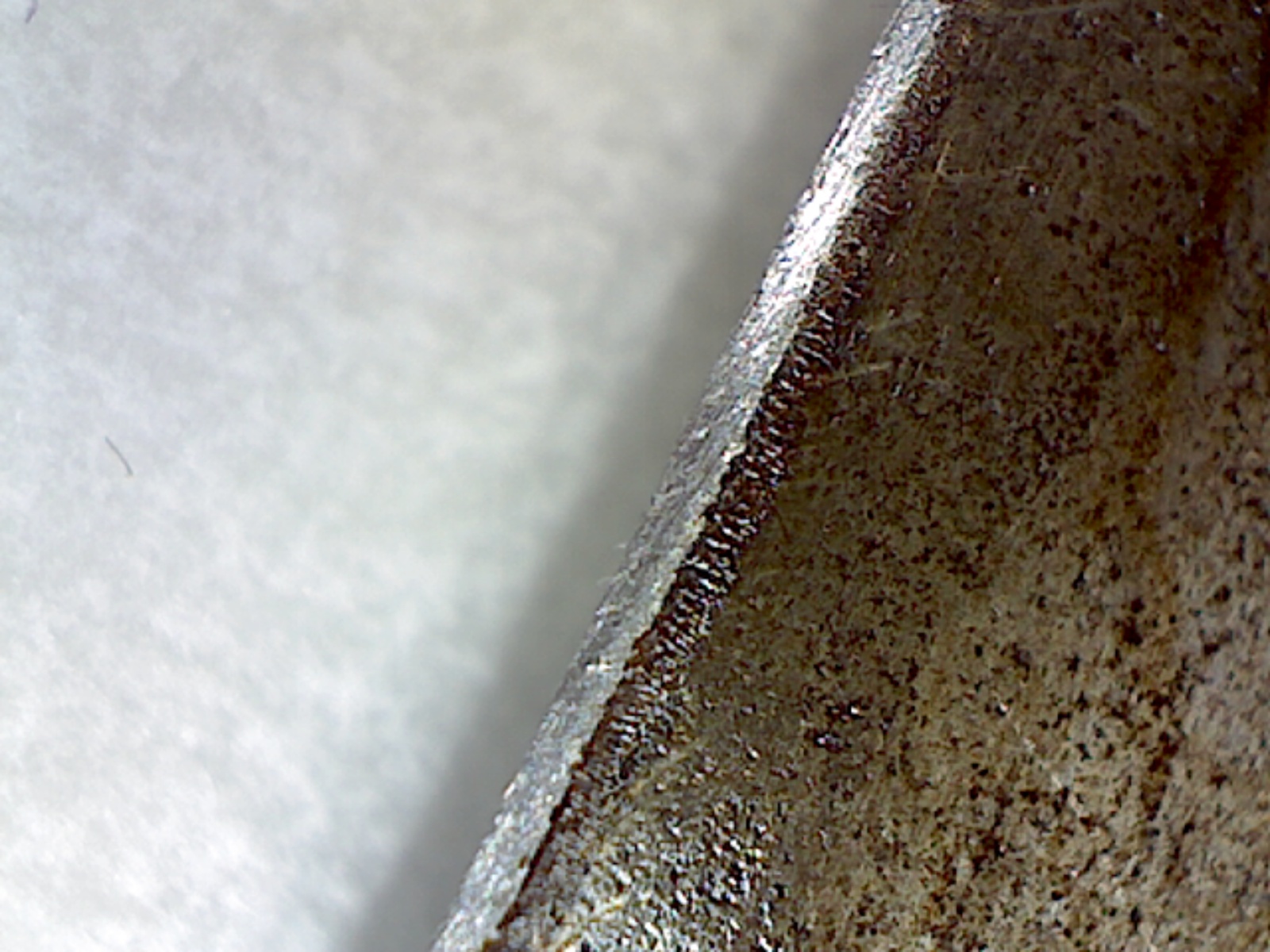 Here's what it looks like after using the 2nd (600 grit) stone: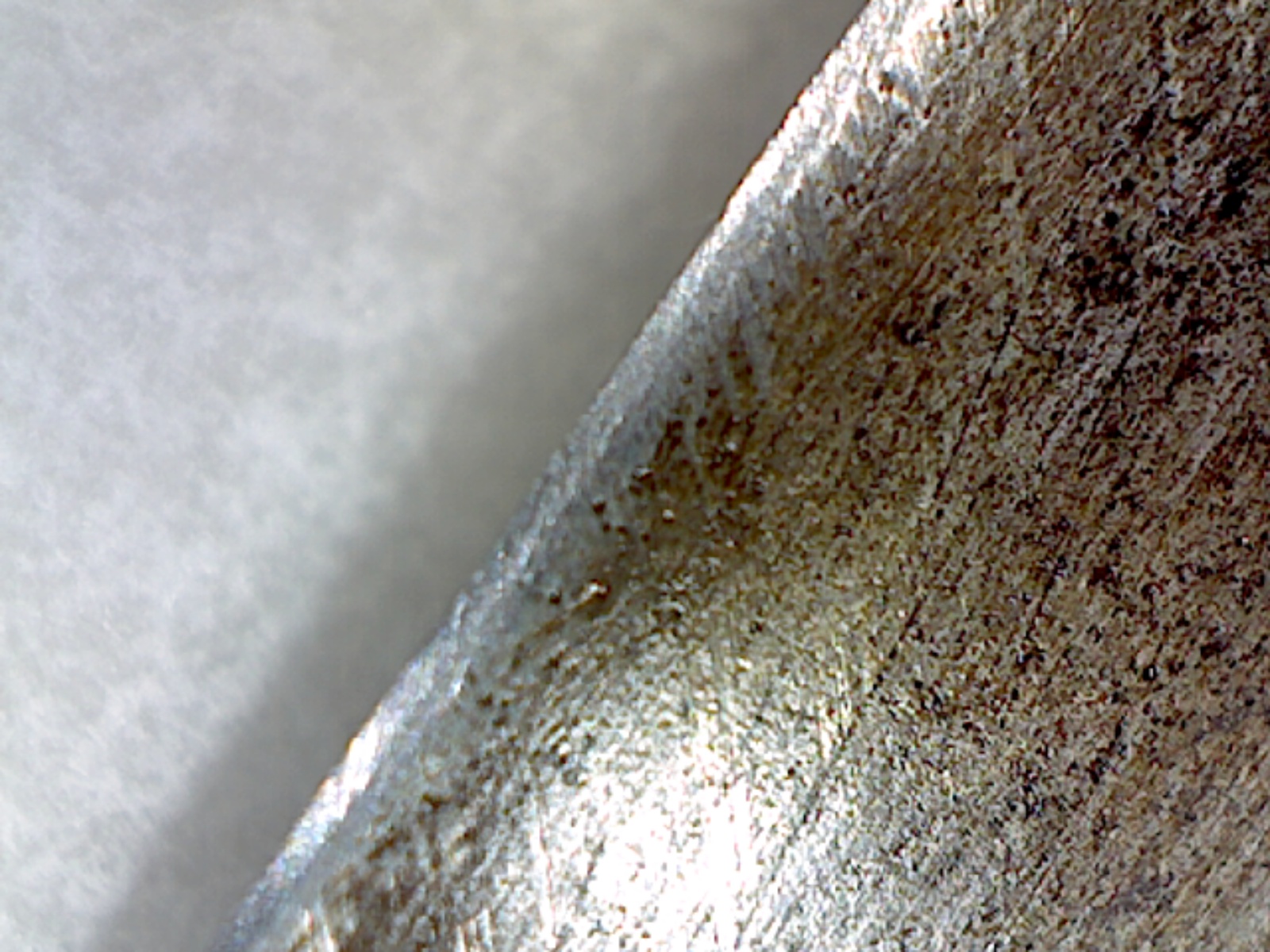 And here's what it looks like after using the 3rd (1000 grit) stone: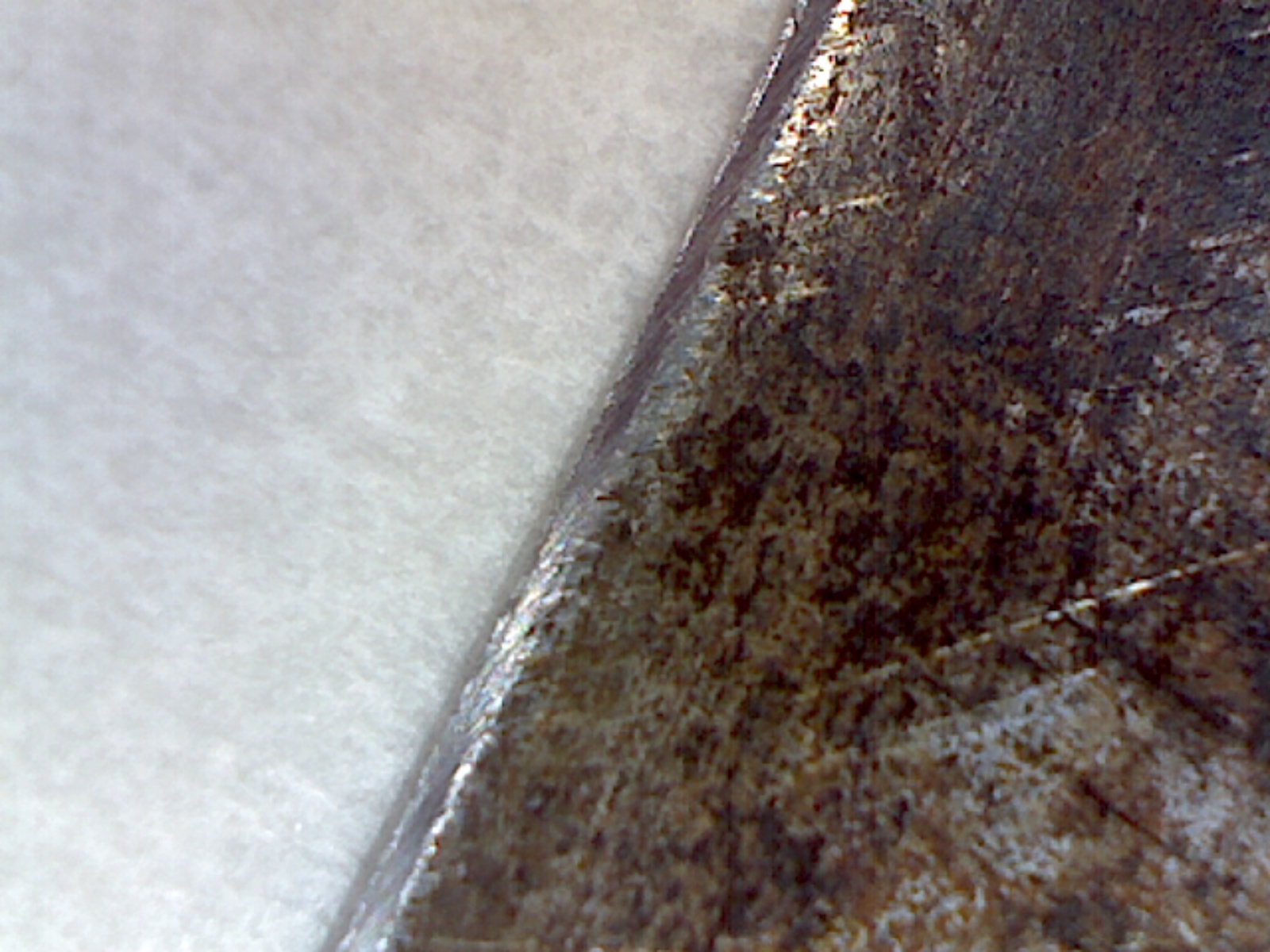 The bumps and grooves are a lot small­er, aren't they? And the edge is pret­ty straight, too.
If I had fin­er grit stones, I could take it down to almost a mir­ror fin­ish, but I find that a 1000 grit stone is sharp enough for me.
If you're patient enough, you can take almost any knife and give it a new edge. If the knife has big nicks in it, you can build a whole new edge, but it'll take you an hour or longer to do it right. You can also use a pro­fes­sion­al knife sharp­en­ing ser­vice, if you're for­tu­nate enough to have a good one in your city.
One final note on photography:
The first two pic­tures were tak­en with a Canon T6i cam­era, the first with a 55 mm lens and the sec­ond with 14 diopters of macro fil­ters added.
The pho­tomi­cro­graphs were tak­en with a Cele­stron Hand­held Dig­i­tal Microscope.